Draskovich Mansion – The museum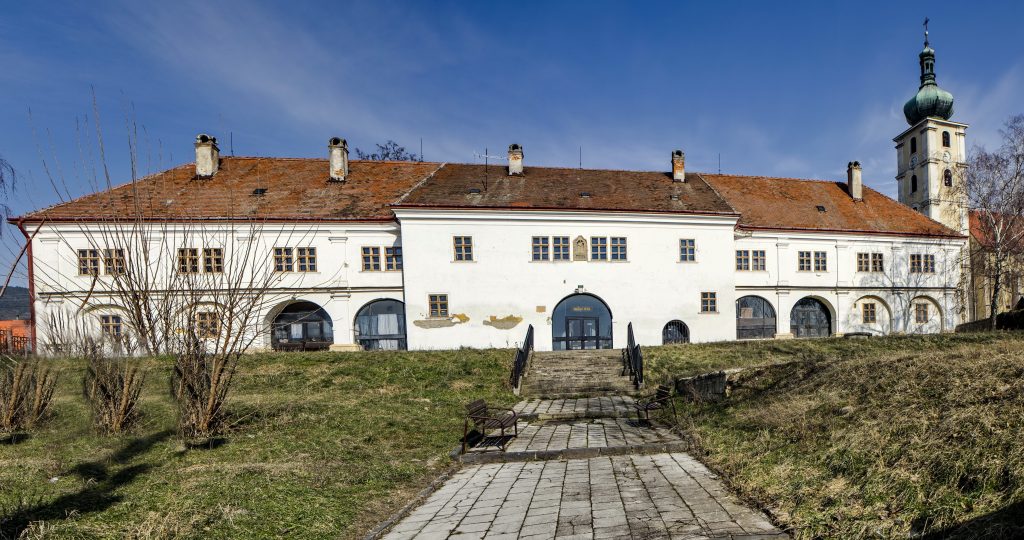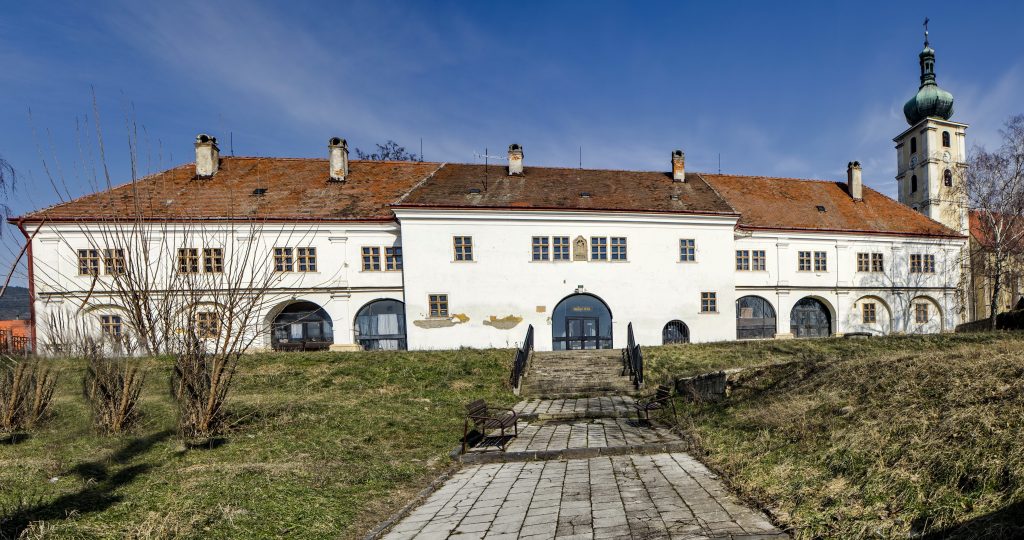 Tittle of the exhibition : Elisabeth Bathory – Cruelty Hidden in Lace. The village of Čachtice is famous especially for sadly known "Bloody" Countess Elisabeth Báthory. The Castle and the village however, have a colourful history rich in many important and interesting events. The Exposure of the Trenčín Museum placed in the late renaissance mansion from the year 1668 of the Croatian ban Draskovich is dedicated to the history of Čachtice. The museum captures not only historical events, but also brings closer to visitors rich cultural tradition and folk culture of the village. Exposure of the Trenčín Museum is on the first floor of the building in the left wing and presents a collection of historical weapons, historical documents, jewellery, a collection of portraits, items found in historical and archaeological research. The most attractive item is a copy of the dress of Elisabeth Bathory made later by hands according to her preserved (most known) portrait.
Kaštieľ je jednoposchodovou blokovou budovou s výrazným stredným rizalitom. Na zač. 18. stor. budovu získali Forgáčovci. Pristavili k nej 2 krídla, jedno na juhozápade a druhé na severovýchode. V západnej časti pôvodnej budovy zriadil v roku 1708 biskup Pavel Forgáč kaplnku, ktorú vysvätil 22.10.1708 Mikuláš Lipai, novomestský prepošt. Posledným majiteľom bola rodina Čenkayová. V roku 1945 – 1958 bola budova z prostriedkov štátu opravená. Dve krídla postavené Forgáčovcami boli odstránené, oltárny kameň z kaplnky, je osadený v stene pod bránou vľavo. Dnes budovu spravuje Trenčianske múzeum.
Opening hours:
November- April – closed
from 1st may to 31st october
Tuesday – Saturday: 9:00 – 17:00
Monday: closed
Sunday: closed
Múzeum v Čachticiach patrí pod Trenčianske múzeum so sídlom v Trenčínea je v zriaďovateľskej pôsobnosti Trenčianskeho samosprávneho kraja.
Contacts:  +421 / 32 778 74 85
Underground of Čachtice - CLOSED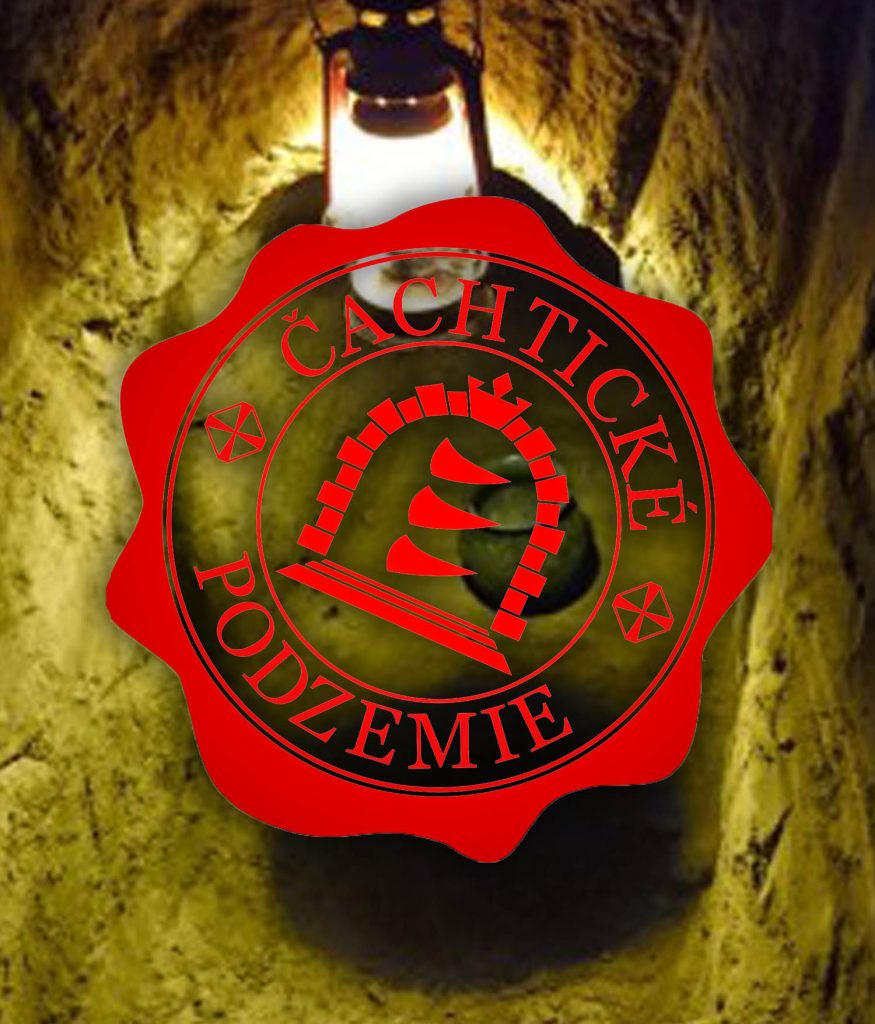 CLOSED
Mysterious underground of Čachtice spreads as the spider´s net under all village of Čachtice. From the original wine cellars inhabitants of Čachtice built an extensive system of corridors with several floors for protection before Turkish attacks. Several weeks after a lost battle of the Hungarian king with the Turks at Mohács (29. 8. 1526) where also our king Luis II Jagelonsky died, Turkish armies started to plunder today´s Slovakia too. Čachtice inhabitants did not have another possibility to hide before Turkish plundering or slavery then to hide under the ground. They did amazing work which affords appreciation. The underground consisted of the entrances which were easily reachable, connecting corridors or front rooms, from which other corridors with crossings and so called "fox holes" led. Through these small corridor could people only crawl or move stooped if they wanted to move to shelter part of corridors. Narrow corridors were important for easy defence before chasers. One armed man can stop a whole military regiment there. The underground was equipped also for longer stay of people. Fruits and wine were stored there, fridges with food and ice and corn pits with wheat were there too. There was a clever system of ventilation built also for lover floors of corridors and probably there was also a subsidiary corridor leading eg. into the safety of a wood. The underground protected people before the war events - for the last time during the World War II. Subsequently it was loosing its importance and corridors were closed with walls and filled with the rubble and swooped down due to construction works on the surface.
To Čachtice Underground a visitor can get from the square and from the Church visitors can follow new direction plates. We recommend visitors to go from the square by foot, since the entrance is in a narrow blind street "Na Doline". The lenght of the journey from the square to the entrance of Čachtice Underground is 300 meters and it lasts about 7 minutes by foot.
More info on fb page Underground of Čachtice.
The Roman Catholic church
Originally a Gothic church was built by the army leader Ctibor I. in 1390. It had one church nave with big windows and on the wall a small saddle tower with the dome. In the year 1680 the church was rebuilt, extended and turned into the baroque style. At present it has 10 big windows. The equipment consisted of 7 altars and a pulpit. On the arcade choir is a late baroque organ. Valuable are baroque church doors on the side entrance from 1661. There are three tombs under the church. On the outside northern wall an original Gothic window was discovered in 1940. The church is dedicated to St. King Ladislav. In 1681 the tower of the church had been built but because of the wrong basement it was taken down in 1740 and the new tower was built. Baroque tower has four floors and in 1756 there were six bells in it. For military purposes four bells were taken from the tower in 1916 and at present there are five bells in the tower. Under the church tower there is a tomb with the coffins of more than fifty important burghers. Both church buildings stand in the stone fortress with loopholes which served well against smaler attacking groups. Thre are three entrances into the fortress . So called rough staircase is dated on Rex Mathes 1496. Medrzihorká ("In between hills") gate was renovated in 1594. Notable is a stone arch bridge with the stairs to parish house and a portal from 1697.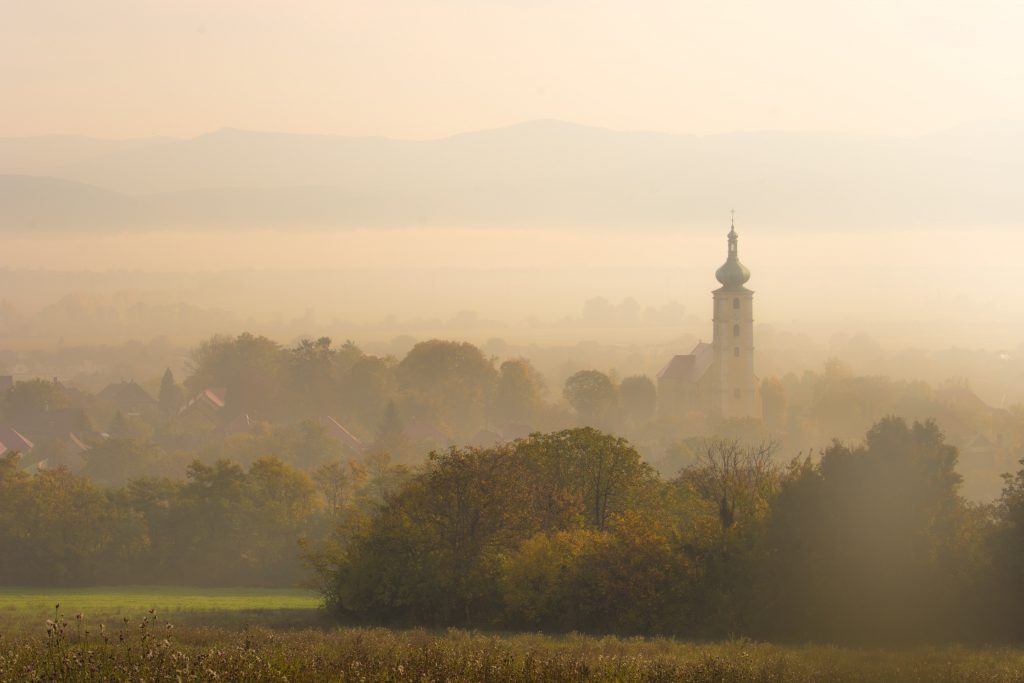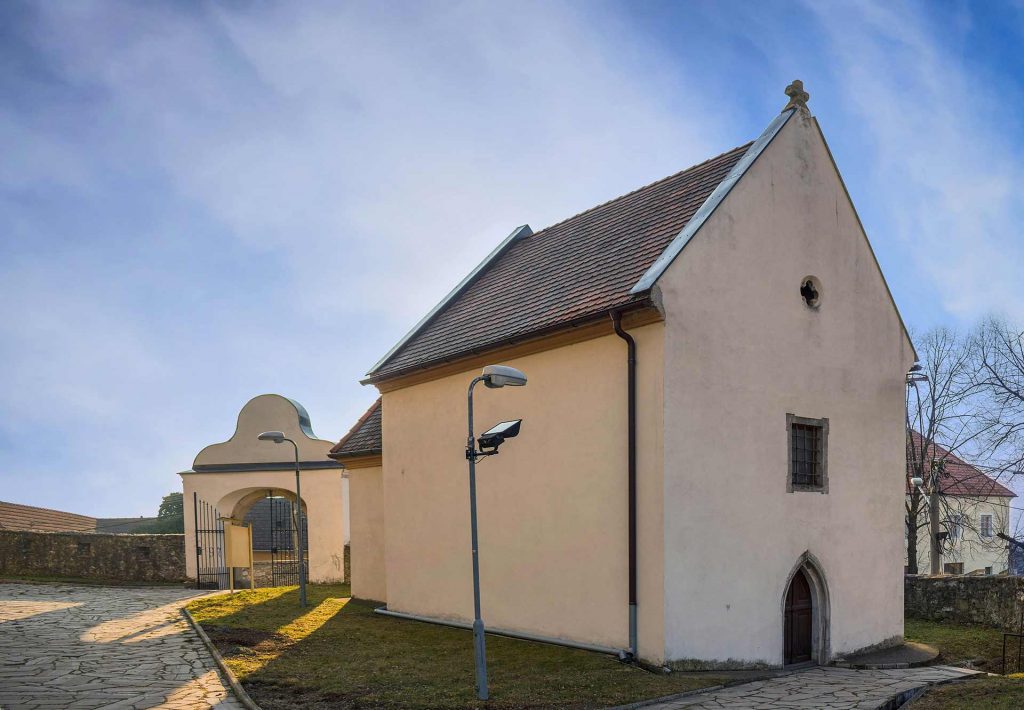 The Gothic chapel of St. Anthony
from 1330 stands on the south- eastern side from the church. There are several visible elements which resemble Church buildings from the Grater Moravian period. The chapel has a small sanctuary with the presbytery and six ribs which coincide on the top into the vaulting of the stud with a triangle coat of arms. In the wall there are two little windows. The nave has a rectangular shape and it has two bigger windows on eastern side. The ceiling of the chapel is created by barrel vault with the stucco decoration on the three pairs of pillars. Above the entrance is a wooden choir with painted pictures of Virgin Mary, St. Stephan and St. Ladislav which brought there from the castle chapel. There is a little four-leaves Gothic window and on the shield of the chapel there is a stone cross.
The Roman Catholic Parish House
Is situated close to the church. Originally one floor building stands on ancient basement. At the time of priest Josef Urbanovsky II. before 1847 it was made higher by one floor. In those years the priest built also a chapel in the courtyard and farm buildings. The parish house is a national cultural monument. On 10 August 1847 the memorable fourth assembly of Tatrin took place there. On 6 August 1933 a memorial plate reminding this important event was exposed on the Parish House. On the occasion of celebration of 150 anniversary of Tatrín a new memorial plate was placed under the Parish House.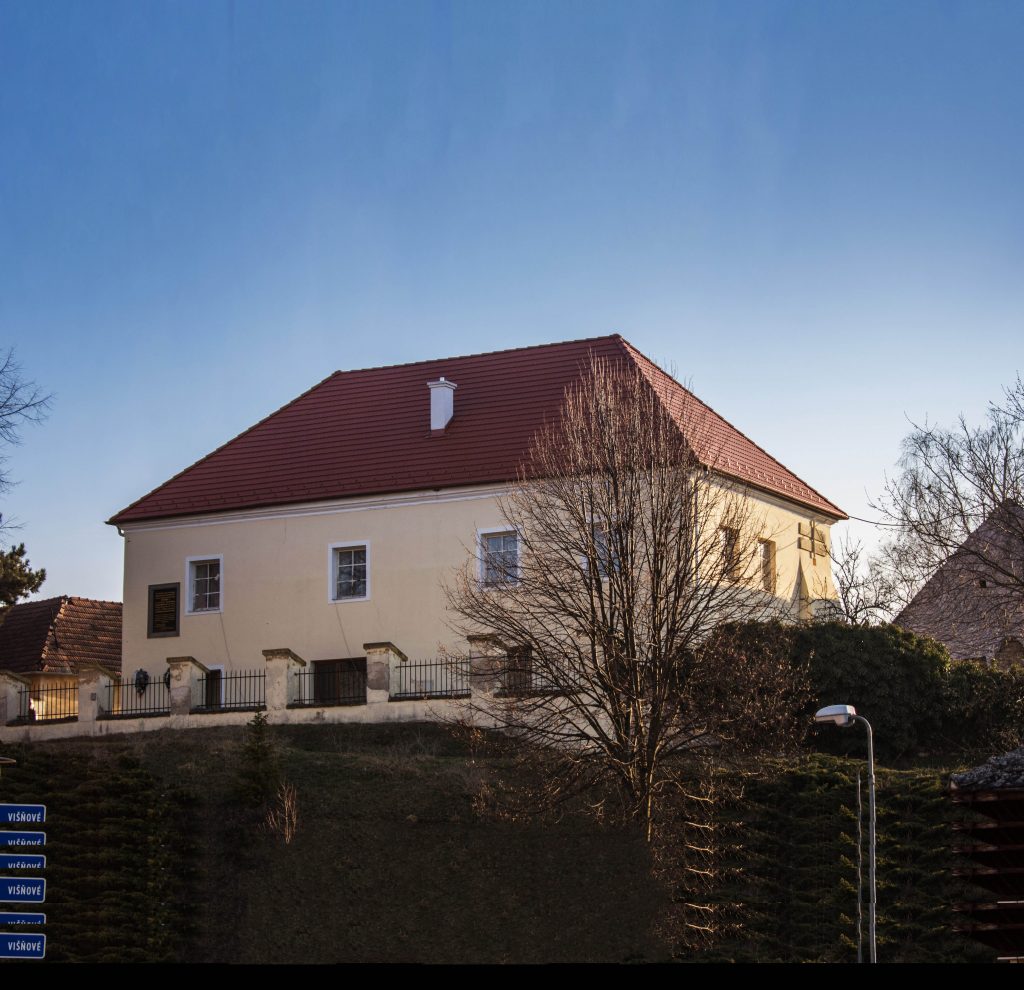 The bell tower-the death knell
From 18th century stands close to the western wall of the church above the route. Its voice could be heard in the times of plague, cholera, fires and other disasters.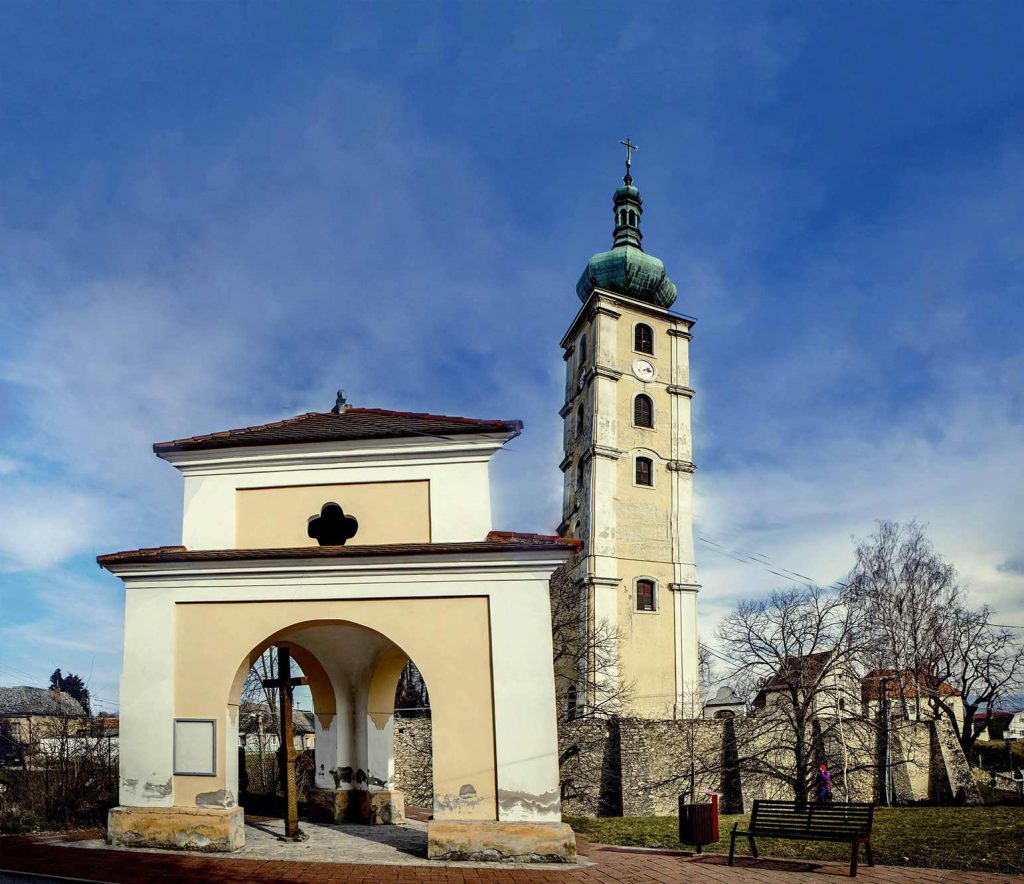 Terajšie cintoríny označované v minulosti ako čachtický a želoviansky, boli zriadené okolo roku 1813. Svedčia o tom aj najstaršie texty na náhrobníkoch. Na oboch cintorínoch dominujú misijné kríže.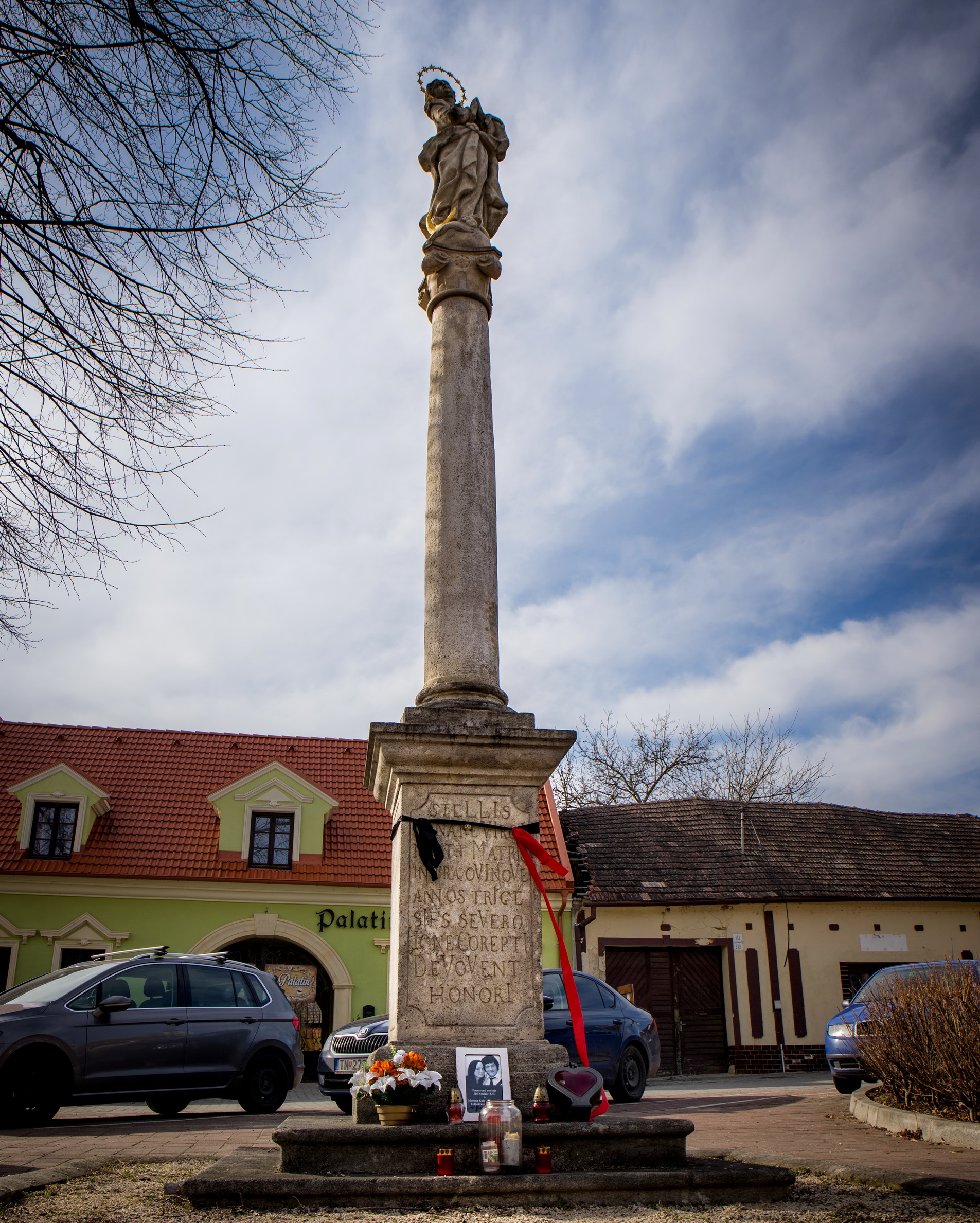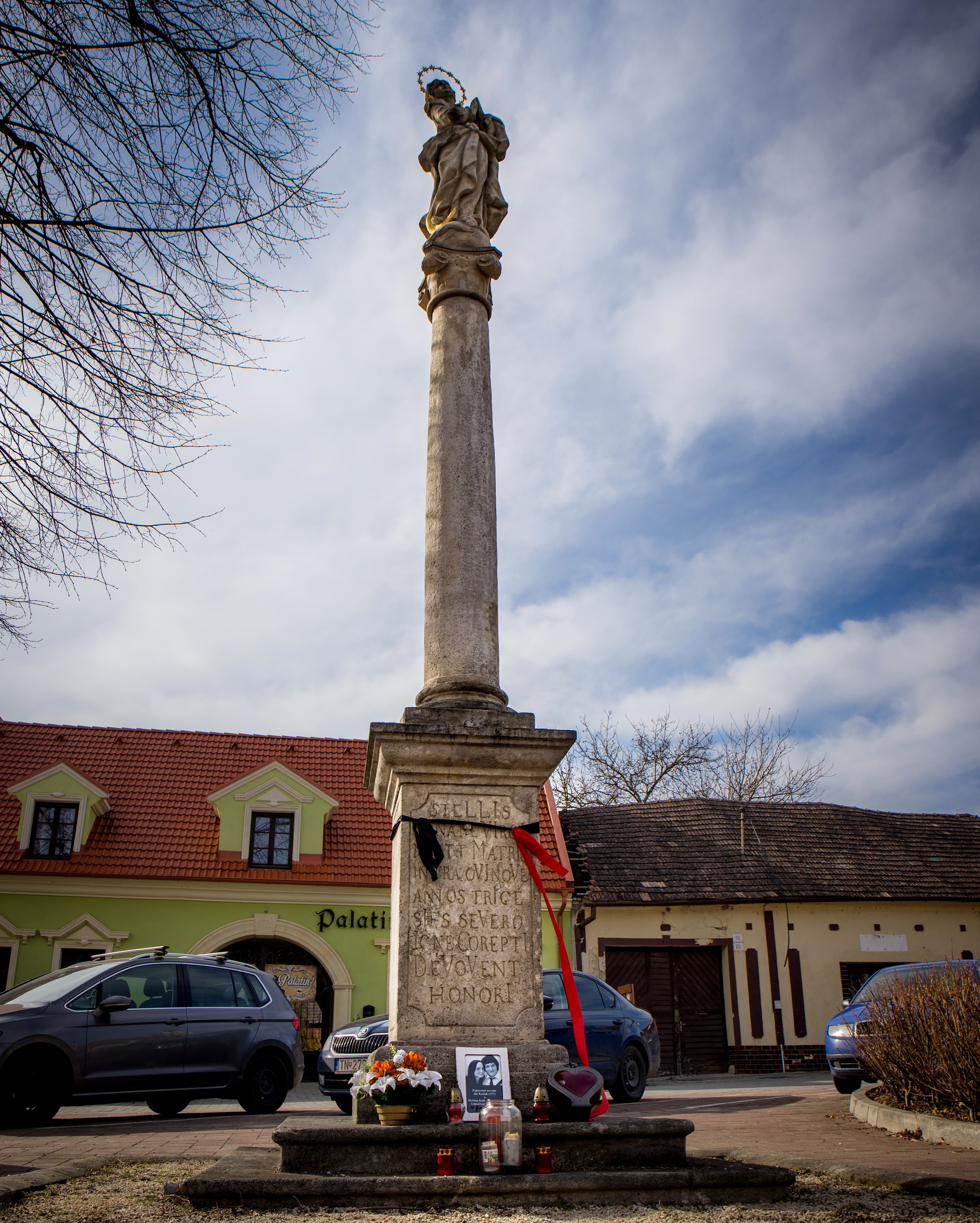 From the year 1742 stands on the square. In the first half of 18th century inhabitants of Čachtice had suffered much by the raids of various armies and bunches of former soldiers, epidemics and natural disasters which were represented in the times of small clay and wooden houses namely by the two disastrous elements – water and fire. In relation to the Column of Virgin Marry this element was fire. There were 30 disastrous fires in nine years. Also the church roof get burned on 15th April 1723. It was obvious that fires around the year 1738 were started by somebody on purpose. People were very scared and prayed for the end of disasters and in the year 1741 under the priest Josef Mackovich people gave a solemn promise – to participate every year on the pilgrimage to Šaštín and to ask there Mother of God there for preventing the village from frequent fires. To emphasise their decision citizens gave to built the column dedicated to Mother of God. On the front side of the column there is an inscription /chronostikon/. It says in latin "To the honour of the Virgin and Mother decorated by stars dedicate citizens in nine years thirty times affected by fires." Marian column is a rare Baroque historical monument.
From the year 1620. It was ordered and built by Judith Révay, daughter-in-law of Elisabeth Báthory as an askance for forgiving of sins committed by her mother in law by torturing of innocent girls.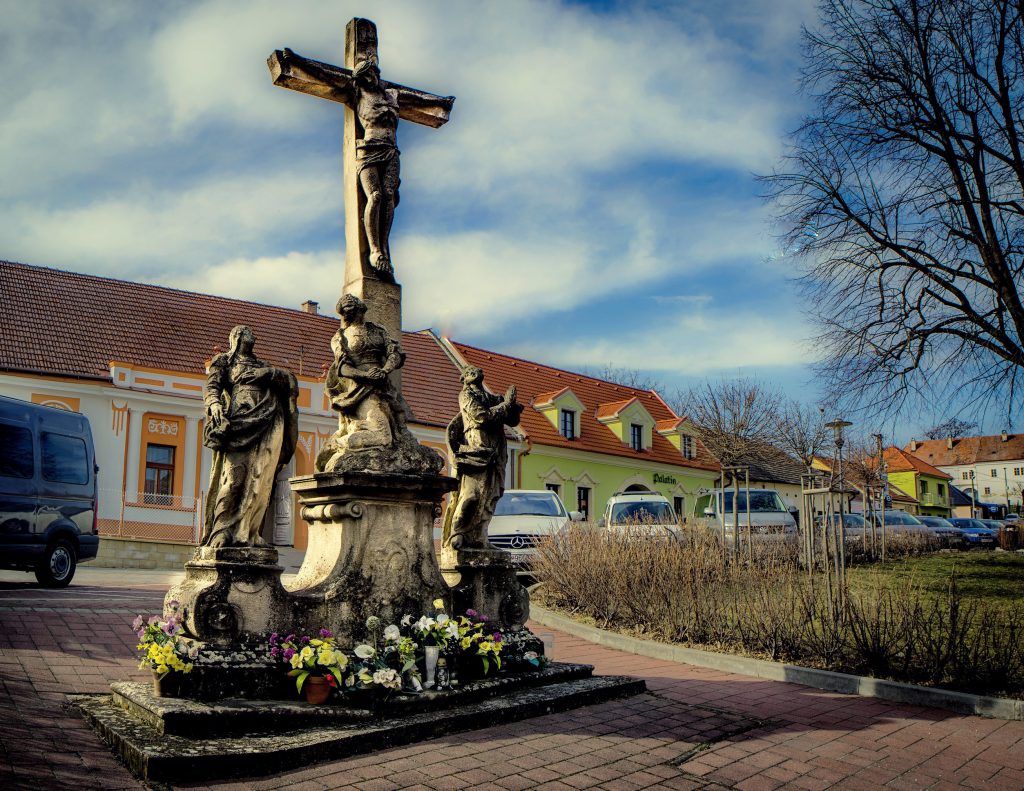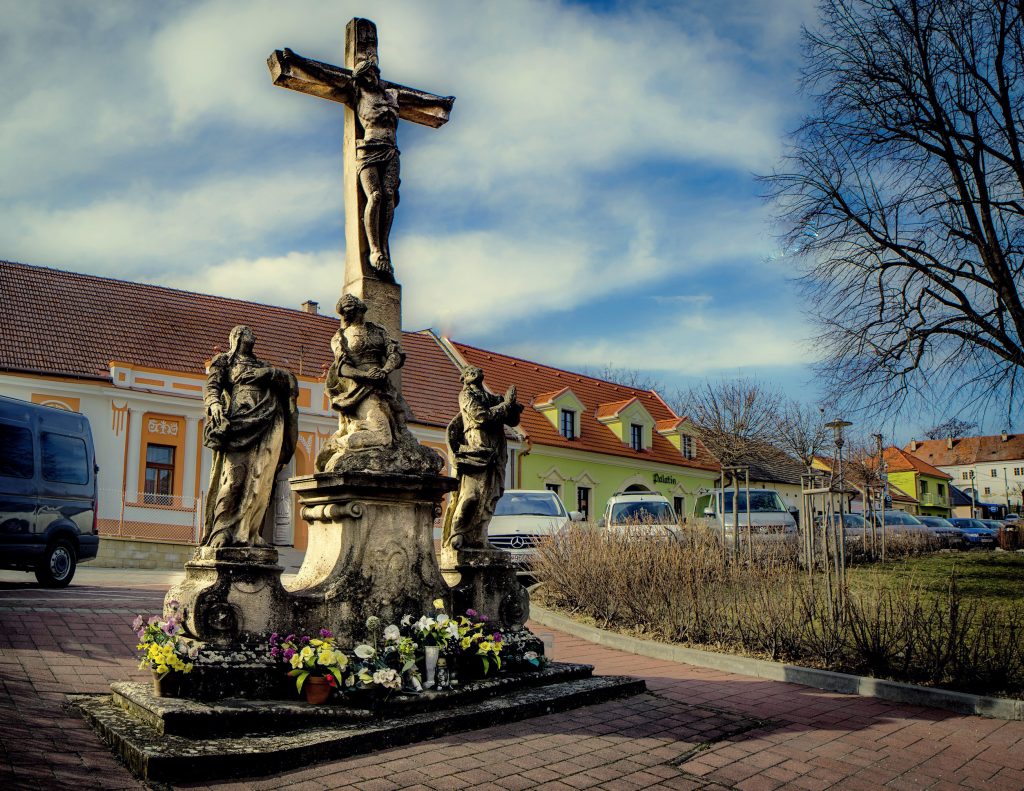 Barokovú sochu Sv. Floriána dal postaviť zemepán Pavel Forgáč. Na podstavci má dva rodinné erby. Sv. Florián sa narodil v 3. stor. na území Panónie. V minulosti patril medzi obľúbených svätcov. Podľa legendy uhasil požiar domu modlitbou. Sv. Florián, patrón hasičov mal obec ochraňovať od požiarov.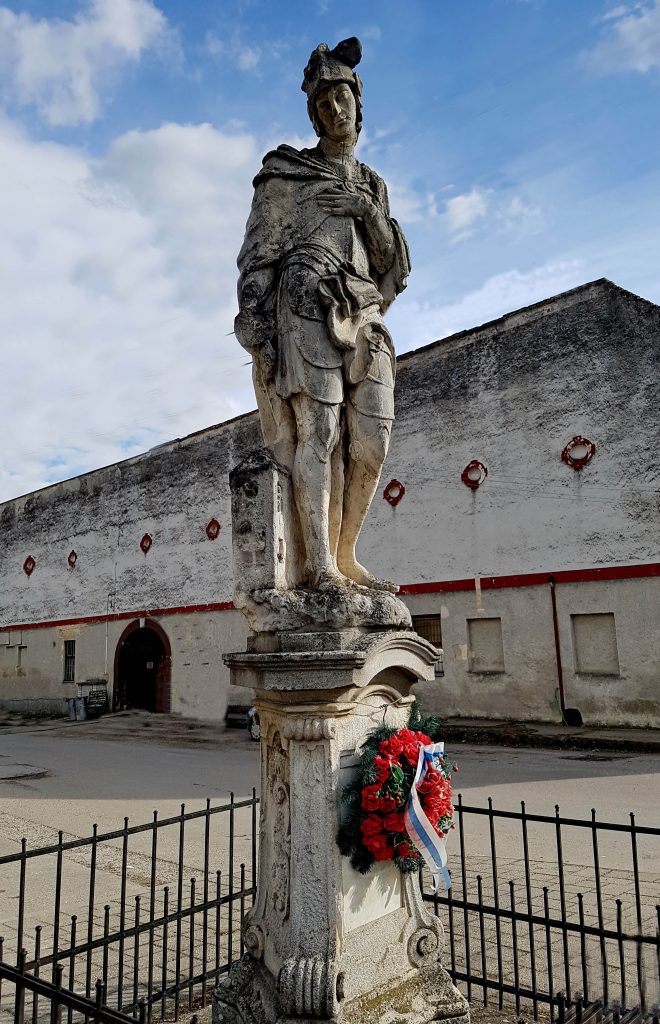 Božia muka stála už v roku 1679, keď vypukol mor – pestis, na ktorý zomrelo celkom 89 ľudí. Tu týchto 89 ľudí pochovali, pri prestavbe cesty tu našli hroby.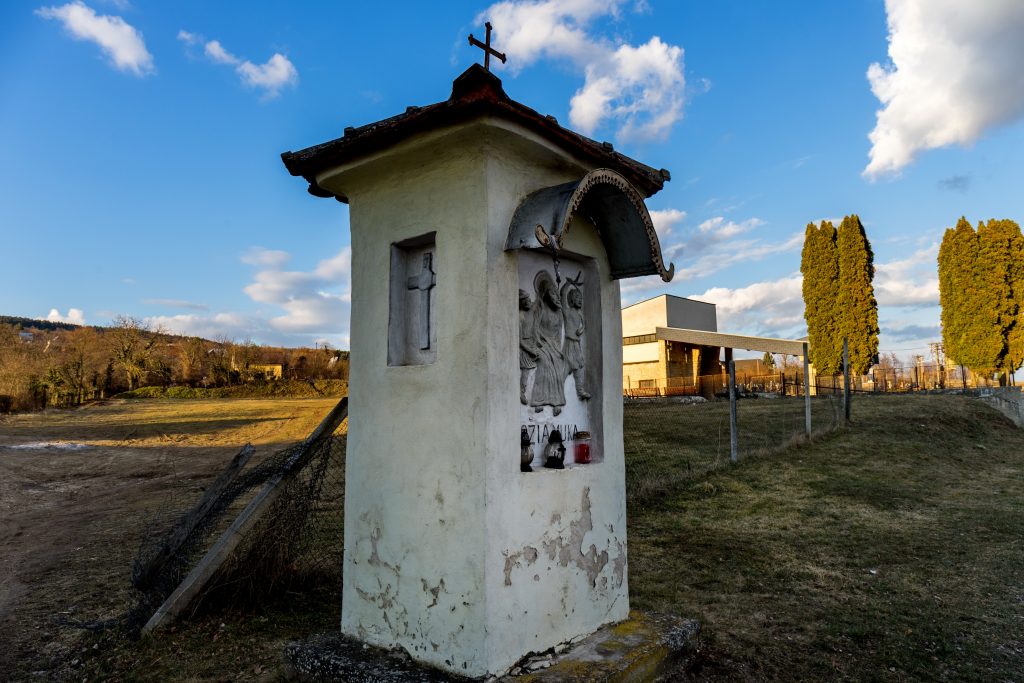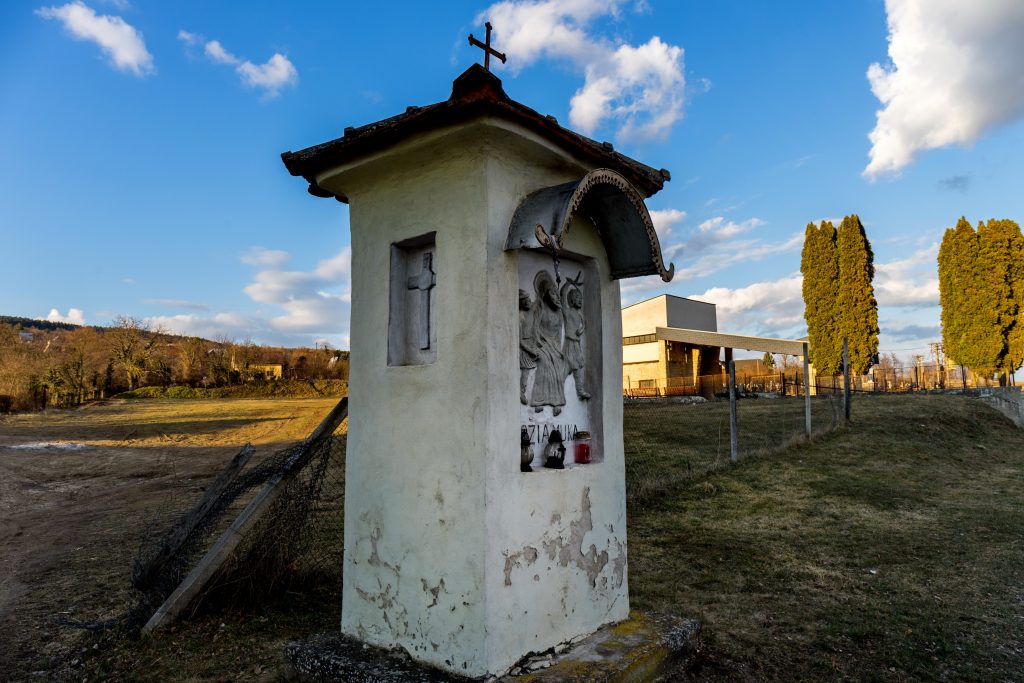 Kríž sa nachádza na okraji svahu, pred budovou fary. Nachádza sa na ňom text: "Z milodarov Farnikov Csejthe, Zsolnafalu, Komárno Roku 1902."
Kaplnka so sochou sv. Jána Nepomuckého
Kaplnka bola postavená v roku 1801 a sv. Ján Nepomucký je vo svojom typickom vyobrazení, ako kňaz v rochete s biretom na hlave.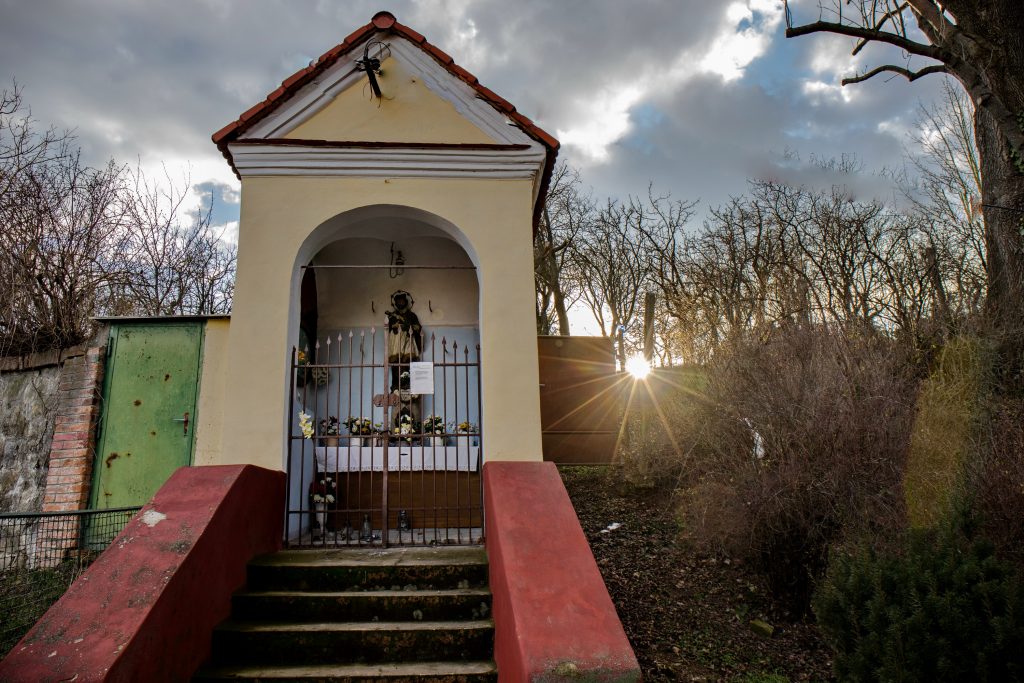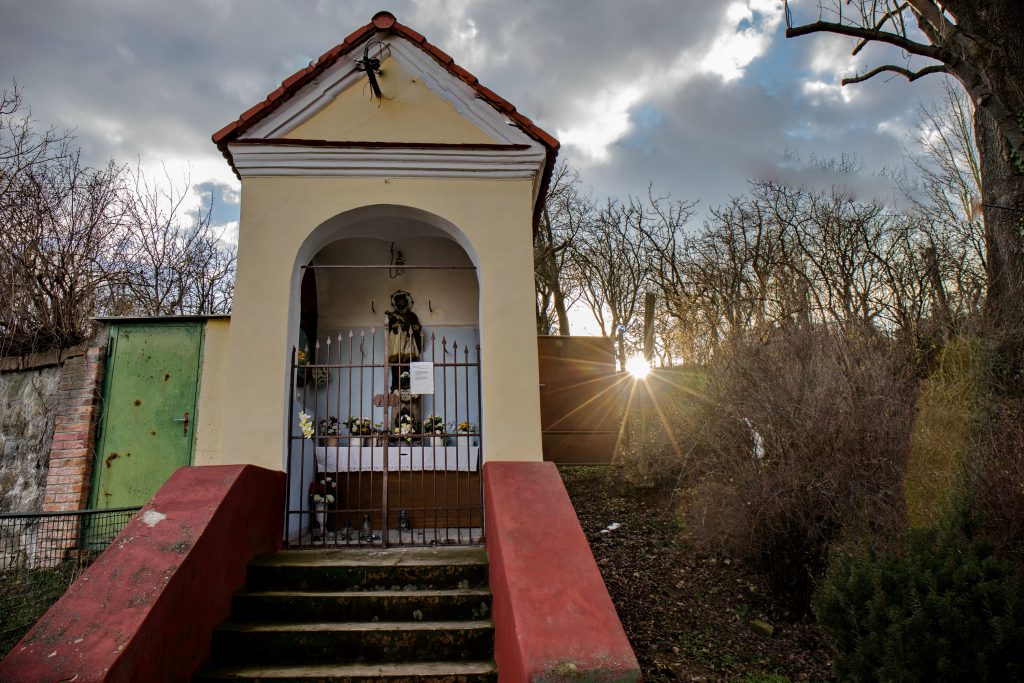 Pomník vojakov padlých v prvej a druhej svetovej vojne
 Jeho autorom je akademický sochár Pavel Bán a vyhotovila ho firma Komenský z Bratislavy.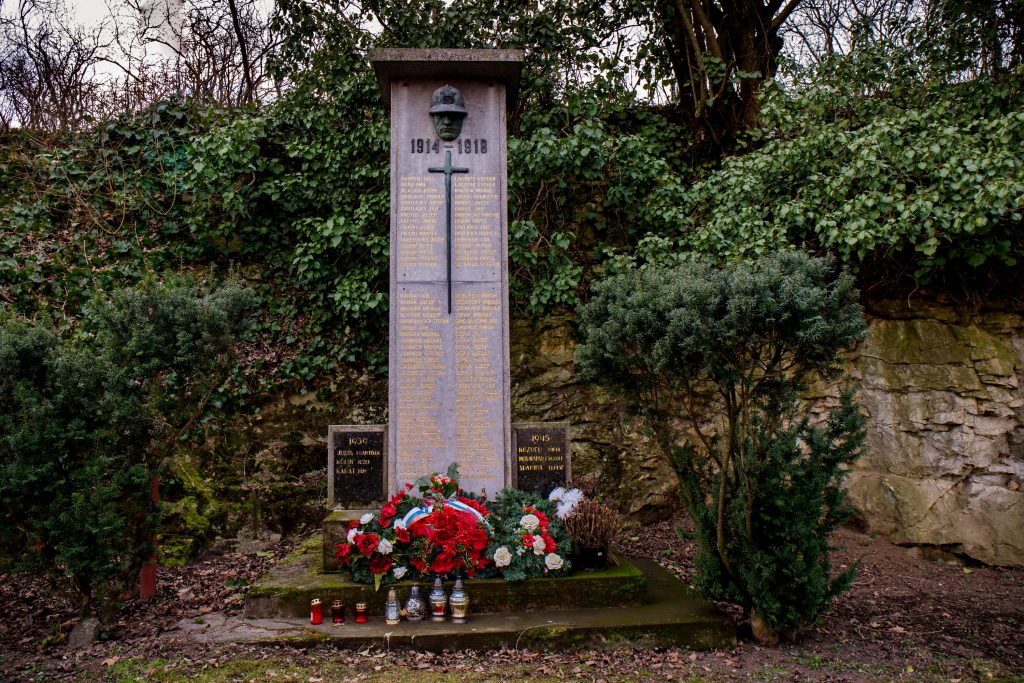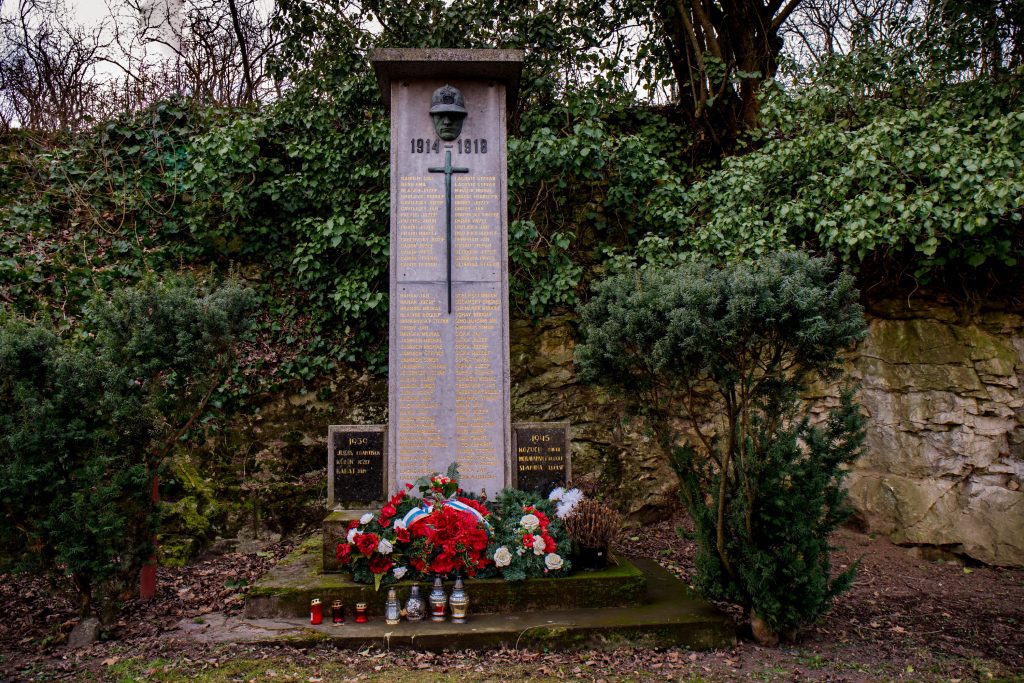 Socha panny Márie lurdskej v jaskyni
Dal ju postaviť barón František Horecký, čachtický kňaz, na pamiatku záchrany svojho života, keď sa pri ceste kočom na riečkou Dudváh prelomil pod ním drevený most a kňaz s povozom padol do vody. Rýchla pomoc občanov ho zachránila. Z vďaky dal v Paríži vyhotoviť túto sochu a ešte sa s ňou dotkol sochy Panny Márie v Lurdách. Po vsadení na dnešné miesto barón Horecký, vtedy už bratislavský prepošt, sochu dňa 9.septembra 1894 posvätil.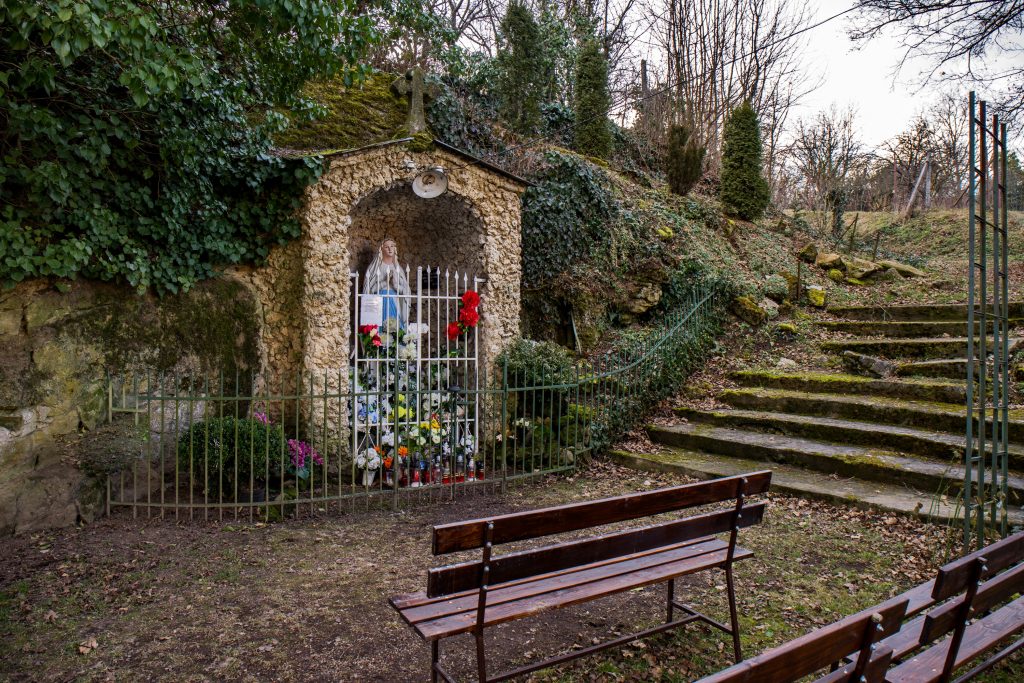 Drevená socha Alžbety Báthory
Najmladšia socha v Čachticiach, z roku 2013 sa nachádza na námestí. Približne 4 metrovú sochu vytvoril z čierneho topoľa sochár Jozef Chromek. Krvavú grófku dopĺňa i jedna z jej obetí.
Priehrada bola pravdepodobne vybudovaná ako protipovodňová nádrž, kvôli odvodneniu okolitých pozemkov. V súčasnosti slúži na zavlažovanie blízkych ovocných sadov a ako rybník. Taktiež slúžila aj na rekreáciu, či už cez leto na kúpanie, alebo v zime na korčuľovanie. Na výtoku z nádrže začína Podhájsky potok a ďalej pokračuje až po ústie toku do Dudváhu.
Dolina začína severne od Čachtíc, vytvorila ju rieka Jablonka. Rozdeľuje Čachtické Karpaty na dve menšie časti Plešivec a Nedze. Vedie ňou asfaltová cesta až do Višňového.
Chastity - their ruins and remains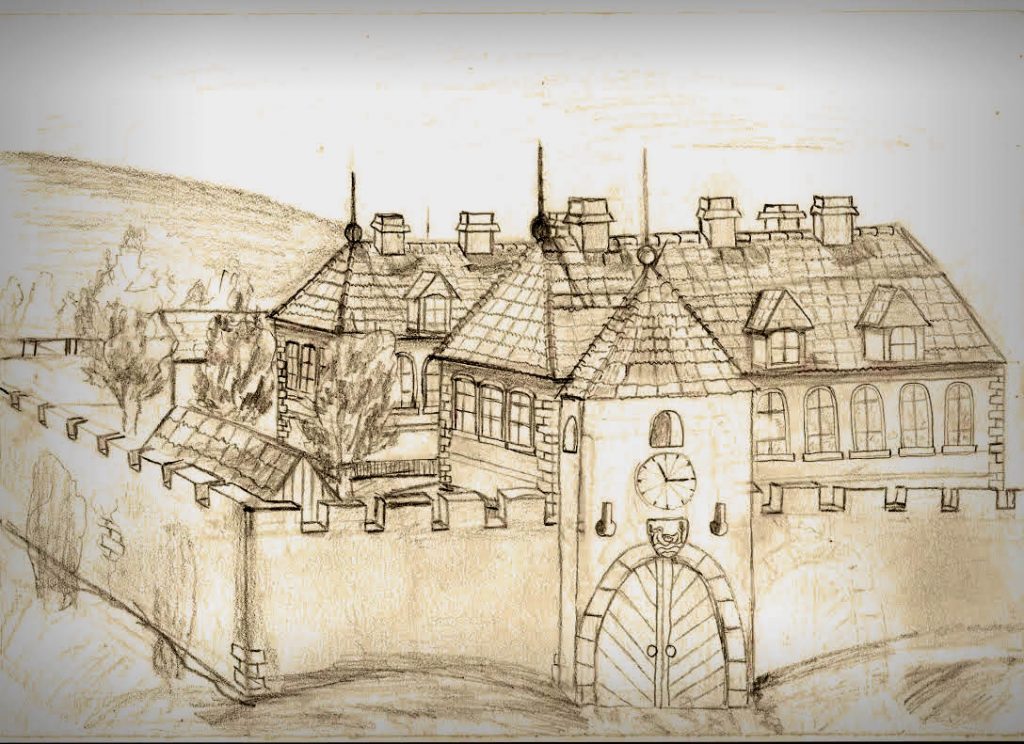 called also Emperor´s Mansion, had after finishing of the floor plan the "U" shape. Even the picture of the mansion had not preserved we have the description of the castle Capitan Paul Kardosz from 1645. The mansion had 46 rooms – two big halls from which one in the new part had as many as 13 windows. There were aristocracy living rooms and sleeping rooms, the treasury, two dining rooms, kitchen, bakery, room for servants and stores. There were 5 cellars in the mansion and extensive labyrinths under the garden. There were fruit and flower gardens around the mansion and a vineyard behind it. Elisabeth Báthory lived ther with her husband Francis Nadasdy II and committed part of her crimes there when she had stayed there. In 1662 the mansion burned down but it was repaired once more. After the death of Francis Nadasdy II /1671/, who was sentenced to death penalty because of the anti – Habsgbourgh plot the property was taken over by the state. Part was rented to Revay´s and Draskovicz´s family. Later, in 1695, the Royal Chamber sold the property to Christopher Erdódy. The last owner of the empty castle was the landowner Springer. The stone cellar was preserved and it serves to Čachtice Cooperative for storage of wine. On the northern side there are remains of the outside wall wit the battlement which formed the fence.
The Wine Cellar of the Agricultural Cooperative Farm
It is situated on the historically important place. Originally the Nadasdy´s mansion stood there. From the mansion only parts of the perimeter walls and one wine cellar remained preserved. The cellar is used for wine production by the Agricultural Cooperative Farm. Viticulture has a long tradition in the village itself and dates back to Roman times. Viticulture went through its biggest development in the times of the "Čachtice Lady", Elisabeth Báthory and red wine from Čachtice conquered also the empress court of Maria Theresia. Agricultural Cooperative builds now on a long tradition of viticulture and at present production is limited by a series of quality vines of its own production.
Wines can be purchased directly in the wine cellar of the Agricultural Cooperative Farm on Fridays between 8 a.m to 18 p. m. or in the Agricultural Cooperative Farm shop on Malinovského street 595 in working days from 7 a. m to 3:30 p. m.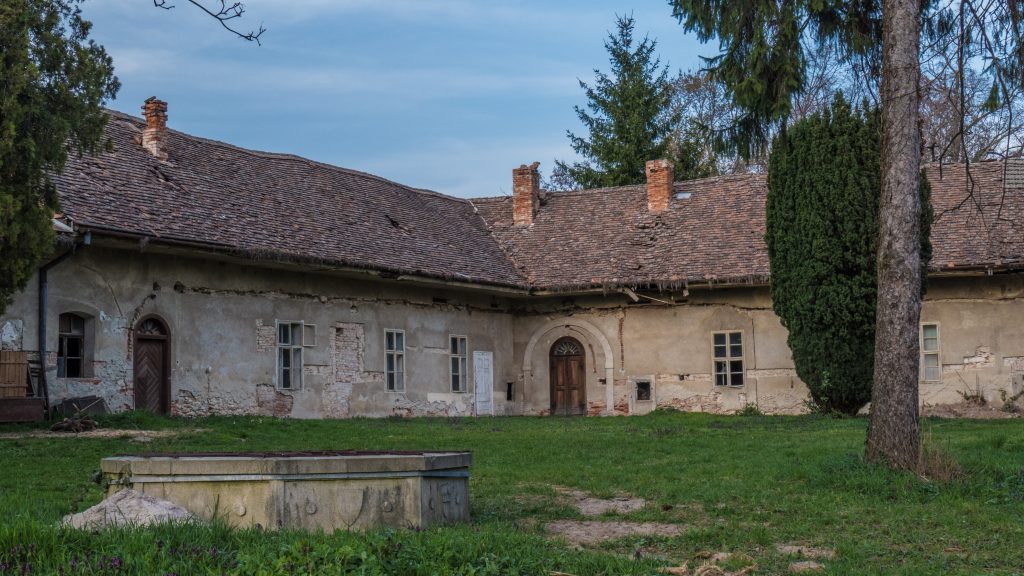 The Drughet´s Courier Station
Is a one floor renaissance building built at the beginning of 17th century as a smaller countryside seat for aristocracy. It was built by the count Georghe Druhghet from Humenné, husband of Catherine Nadasdy. Later it was obtained by Andrrásy´s family and Jesensky´s family. The building has the "U" shape. Above the entrance portal in the central part is the Coat of Arm´s of Drughet´s family.
it stood on the place where the Drughet´s Courier´s Station is today. Only one piece of wall was preserved and this proves that the the building had a floor since stone cantilevers were preserved there. One of the owners – Ladislav Országh loved viticulture. The prove of his relation to wine is also climbing vine which was carved out into the stone windows and doors rims of the mansion.
One of these stones is built into the bridge leading into the castle fortress /on the right side above the staircase/. The mansion is mentioned as the Palace of the Court. Decisions about the life and death of defendants were made there. Description of the building did not preserved.